NZ Slip Standard AS/NZS 4586 & Building Code requirements for D1 Access Routes
The NZ Building Code specifies acceptable solutions and verification methods for Clause D1 Access Routes (Acceptable Solution D1/AS1), which states that 'access routes shall have adequate slip-resistant walking surfaces under all conditions of normal use'.
For homes, the access route that must meet this standard is the approach to the main entrance. Not inside the entrance and not on the approach to other entrances (that are not the main entrance).
In the Building Code Acceptable Solution D1/AS1 it specifies;
2.1.2 For level access routes expected to become wet with water in normal use, walking surfaces shall either:
a) Have an SRV classification of not less than 39 from the wet pendulum test method of AS 4586 Appendix A using the Slider 96 rubber, or
b) Use the materials listed in Table 2 as 'acceptable wet slip'. Table 2 is included for reference below.
If the access route to your home is covered and expected to stay dry in normal use, then the acceptable dry slip resistance threshold must be met, and all ceramic and porcelain tiles are deemed to meet this requirement.
In a commercial setting, such as an office building, there is a transition zone between any part of the access route which is intended to remain dry under normal usage and that part of the access route which may become wet during normal usage. The transition zone shall be provided with:
a) Water absorbent matting across the width of the effective walkway with a sufficient dimension in the direction of the pedestrian traffic to remove water which may be tracked by footwear (suggested as minimum 1.8metres), or
b) An extension of the wet slip resistant walking surface for sufficient distance from the point at which water can be tracked indoors (normally from the entrance portal) to allow water to be shed from footwear (suggested to be 6-10m from where the ground gets wet from rain), or
c) A combination of a) and b) above.
There is no requirement for slip resistant surfaces in a transition zone for residential applications. Simply determine if the main entrance area (access route) will be dry or wet under normal conditions, i.e. covered or uncovered.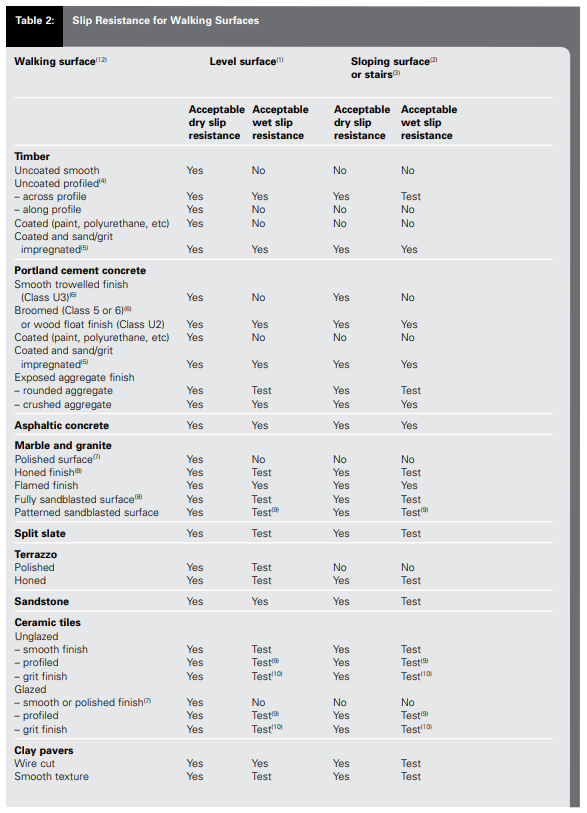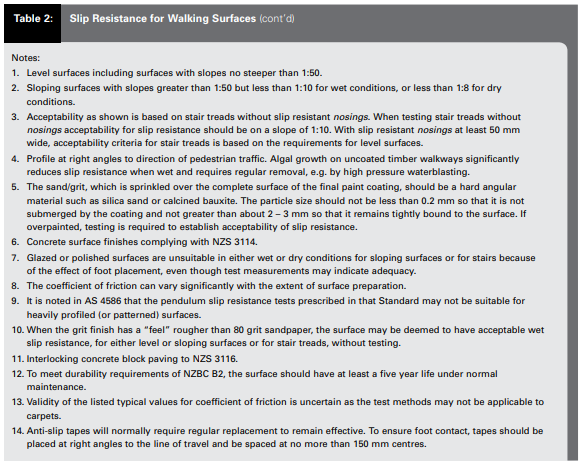 If you would like to know more about the building code, acceptable solution D1/AS1, sloping surfaces or stair requirements or additional commercial recommendation for areas such as public bathrooms or swimming pools, then please get in touch with your enquiry to our team - hello@tilehaus.co.nz
Additionally, if you would like any specific tile slip-resistant performance results or more information on the various testing methods that are recognised, please get in touch with us.